Friday Prayers - Limited Service During COVID
We thank God, the Supreme, for bringing us safely to this point. The safety of the those who come to worship and volunteers continues to be extremely important to us. Therefore, Friday prayers continue with limitations and conditions.

As an example of these limitations, the prayer area has been marked for prayer locations to be 3 feet apart to maintain for proper social distancing. This has reduced the capacity of the prayer hall.

The following guidelines must be followed without exception:
Masks will be worn at all times.
Each attendee will ONLY use designated spots in prayer hall marked 3 feet apart.
Attendee will bring their own prayer rug and mask with them.

For those unable to attend, the Jum'ah khutbah will insha'Allah be streamed live via YouTube and Facebook. Like we have been doing, those at home need to offer Dhur salaat (4 rakah). Khutba starts at 1:00 PM and Iqamah at 1:30 PM, Insha Allah.

The following khateebs are scheduled for the next few weeks. Please note, occasionally a khateeb may change at the last minute and this page may not reflect that change.

| DATE | KHATEEB |
| --- | --- |
| November 26, 2021 | Dr. Mohamed Lazzouni |
| December 3, 2021 | Imam Talal Eid |
| December 10, 2021 | Shaykh Yasir Fahmy |
| December 17, 2021 | Dr. Saleem Khanani |
| December 24, 2021 | Dr. Mohamed Lazzouni |
| December 31, 2021 | Imam Talal Eid |
Parking for Friday Prayers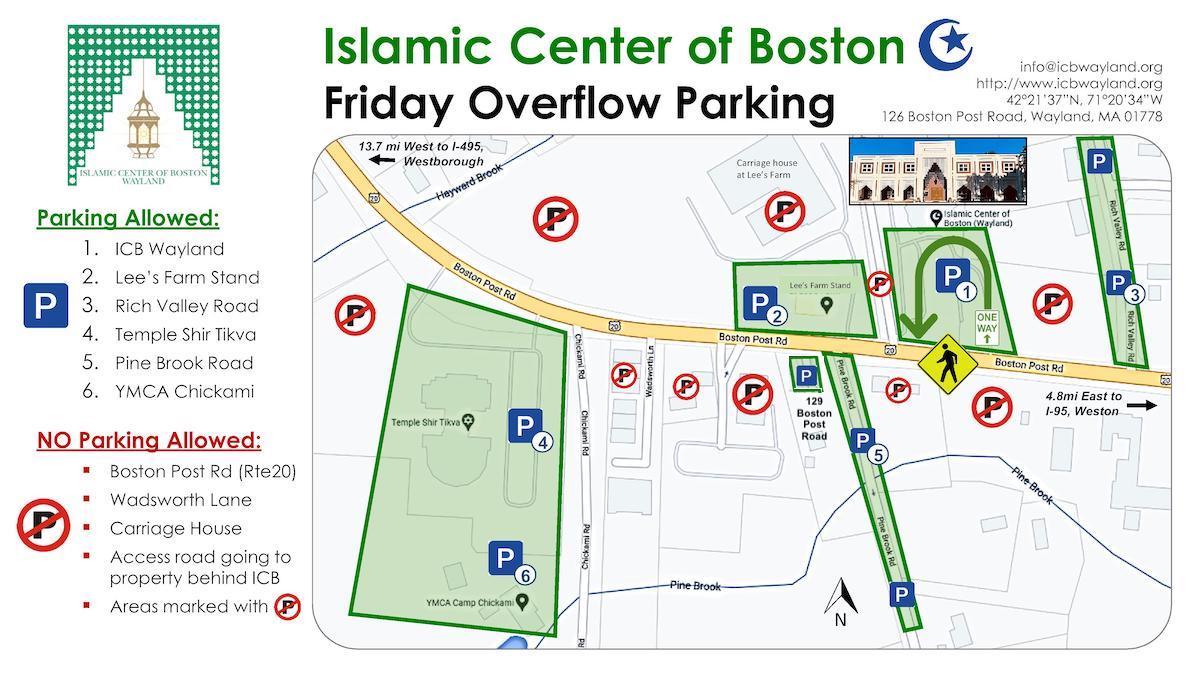 Islamic Calendar | Ramadan, Eid al-Fitr and Eid al-Adha
ICB Wayland follows the recommendation of The Fiqh Council of North America (FCNA) regarding the adoption of an astronomically calculated Islamic Calendar. The detailed discussion of the decision is in ICB Moonsighting Decision.

Accordingly, for the start of Ramadan and Eid al-Fitr, ICB uses the Islamic calendar published by FCNA and of Islamic Society of North America (ISNA). For Eid al-Adha, the FCNA's current criteria is that the final determination of the date of Eid al-Adha will be contingent on the announcement by the Hajj authorities in Makkah of the day of Arafah, in which case Eid al-Adha will be the day following the day of Arafah.

Eid AlAdha 1436 AH (2015 CE): The Astronomical New Moon is on Sunday, September 13, 2015 at 6:41 UT. Monday, September 14, 2015 is expected to be the 1st day of Dhul Hijjah 1436. The day of Arafah, the main day of Hajj, is expected to be on Tuesday, September 22, 2015 and so the Eidul Adha 1436 is expected on Wednesday, September 23, 2015.

May Allah (swt) keep us on the right path, and accept our fasting and prayers. Ameen. For more detailed information, please visit: fiqhcouncil.org or moonsighting.com